Facilities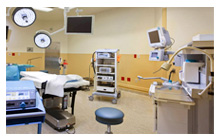 Laproscopic & Hysteroscopic surgeries in Guhan Hospital started on July 2006. Many childless couples benefited by Laproscopic & Hysteroscopic surgeries. We offer complete outpatient and inpatient gynaecologic care and the latest minimally invasive treatments for common and complex conditions, including uterine fibroids.
Our Center for Infertility and Reproductive Surgery is renowned for its high success rates and helping to build healthy families. We provide care for all pregnant patients and especially skilful treatment for high risk pregnancy patients. The department is equipped to handle all type of Gynaecological & Obstetric cases. We routinely perform keyhole gynaecological surgeries like
Laproscopic Assisted Vaginal Hystrectomy
Laproscopic Ectopic Pregnancy removal
Laproscopic PCOD drilling
Laproscopic Choclate cyst removal
Laproscopic Myomectomy (Removal of Fibroid)
Laproscopic Tubal Sterilization & Ovarian Cystectomy
Laproscopic Adhesiolysis
Diagnostic Laproscopy & tubal patency tests for infertility patients
General Surgery
Appendicectomy
Inguinal Hernia Repair
Cholecystectomy
Hydrocele Surgery
Varicocele Surgeries
Infertility Treatment
Follicular study with color Doppler scans
Tube Testing
Laproscopy & Hysteroscopy
Intra Uterine Insemination (IUI)
Semen Analysis
Blood Hormone Analysis. [FT3, FT4, T3, T4, TSH, LH, FSH, PRL,
BETA-HCG, ESTROGEN, PROGESTERONE]
Insurance Schemes Available
CHIEF MINISTER HEALTH INSURANCE
MD INDIA NEW HEALTH INSURANCE PVT.LTD [GOVERNMENT EMPLOYEES INSURANCE]
STAR HEALTH INSURANCE SCHEME
Cholamandalam Ms General Insurance
Tamil Nadu New Health Insurance Scheme For Pensioners
BSNL Insurance Schemes
MD INDIA INSURANCE SCHEME - PRIVATE
Infertility Unit
INTRA UTERINE INSEMINATION LAB
IVF/ICSI OPENING SHORTLY
Services Available
24 HRS MATERNITY SERVICES [ WELL EQUIPPED STATE OF ART LABOUR ROOM WITH A/C ]
NEW BORN UNIT
PHARMACY
ECG
BLOOD LAB
COLOUR DOPPLER SCAN
Obstetrics
Caeserian Operations
Normal Deliveries
Management of high risk pregnancies & repeated pregnancy losses
Cervicle encirclage
Repeated Miscarriages
This is a term used to describe the loss of more than one pregnancies where the outcome of the pregnancy is influenced by previous disaster. This could be early [before 13 weeks] or late.
Common Causes are:
Genetic abnormalities
Commonest Cause
Treatment for this is negligible.
Uterine abnormalities
Abnormal shaped uterus
Septate Uterus - Very good result after correction by Hysteroscopic septal Resection.
Cervical Incompetence [Weakness]
The lower end of the uterus –cervix is unable to retain pregnancy after certain period [i.e. after 14 weeks].
Could be very easily corrected by cervical stitching [Tightening]
Diabetes & Obesity
The commonest & easily correctable cause by weight loss, proper diet & medical treatment.
Hormonal Imbalance
Thyroid disorders
PCOD [Polycystic ovarian disease]
Anovulatory disorders [Irregular periods]. Again treatable by diet, weight reduction, proper medical treatment and hormonal assay & follicular growth monitoring by transvaginal ultrasound.
Auto Immune Disorder
This is a common evolving problem now-a–days. where the mother produces antibodies against her cell membrane. This indirectly causes blood vessel injury & constriction of blood vessels
Pregnancy Loss
High blood pressure in pregnancy
This condition is correctable by long term usage of vessel dilators [Aspirin & Inj. Heparin]
Services Available

| | |
| --- | --- |
| | 24hrs Maternity Services |
| | Laproscopic & Hysteroscopic Surgeries |
| | Fertility Services |
| | 24hrs Colour Doppler Scan |
| | Blood Lab [ Including Hormone Analysis] |
| | Infertility Unit [IUI] |