Welcome to Guhan Hospital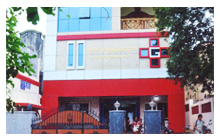 Guhan Hospital was opened on June 2000 in Mayiladuthurai. and then shifted to new Guhan hospital premises located at 41/168, Mahadhana Street, Mayiladuthurai.Nagai (DT) on June 3rd 2011. We are known for our scientific, Honest & Innovative approach to the people of all sections, utilizing the best possible resources available in the Cauvery delta part & transferring it to the patients in the field of Gynaecology & obstetrics.
Our mission is to provide excellence, innovation and superior quality in the care of patients, in the training and mentoring of health professionals, and in the creation and sharing of knowledge in women's health particularly in the field of Maternity care, Infertility (childless couples), Laproscopy & Hysteroscopy and Gynaecological surgeries. Our entire staff and doctors are regularly oriented towards the safe and secure handling of patient and equipments. We are oriented towards the overall well-being of the patient and peace of mind which should be the ultimate goal in disease cure.
Many childless couples had been treated successfully in our centre & we are the best centre in Mayiladuthurai for reproductive care. The centre has got all facilities for infertility under one roof. We have performed more than 1000 IUI procedures & delivered more than 300 babies by successful IUI procedures & more than 50% of couples achieved pregnancy by successful Laproscopic & Hysteroscopic surgeries. The hallmark of the centre is every couple comes under the direct testification of the managing director, who is well trained in ultrasound, Laproscopy & Hysteroscopy, Vaginal Gynaecological surgeries & Infertility treatment.
Our Team
MEDICAL DIRECTOR:
Dr. SHANTHI VENKATAKRISHNAN, MD(O&G)
CONSULTANTS:
Dr. KARTHIKEYAN,MD,DM- GASTROENTEROLOGIST
Dr. MARUTHAPPAN,MS –GENERAL SURGERY
EMBRYOLOGIST:
Dr. A.S.VENKATAKRISHNAN, M.Sc (Ag). Ph.D,
SONOLOGIST:
Dr. NANDAGOPALAN, MD
NEONATOLOGIST:
Dr. RAJESHKANNA, MBBS, DCH
ANAESTHETISTS:
Dr. SRINIVASAN,MD
Dr. MUTHUKUMAR, MBBS, DA
LABORATORY CONSULTANT:
MISS.C.PRABA, M.Sc, M.Phil (MICROBIOLIGIST)
IUI CO-ORDINATOR:
MISS.S.VASANTHI, M.Sc, M.Phil (BIOCHEMISTRY)
Services Available

| | |
| --- | --- |
| | 24hrs Maternity Services |
| | Laproscopic & Hysteroscopic Surgeries |
| | Fertility Services |
| | 24hrs Colour Doppler Scan |
| | Blood Lab [ Including Hormone Analysis] |
| | Infertility Unit [IUI] |