Treatments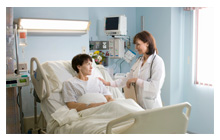 No of Laproscopic procedures carried out since 2006
LAPROSCOPIC PCOD DRILLING - 350 CASES
LAPROSCOPIC STERILIZATION - 150 CASES
LAPROSCOPIC ECTOPIC PREGNANCY REMOVAL - 50 CASES
LAPROSCOPIC OVARIAN CYST - 50 CASES
LAPROSCOPIC MYOMECTOMY - 20 CASES
LAPROSCOPIC CHOCLATE CYST - 60 CASES
LAPROSCOPIC ASSISTER VAGINAL HYSTRECTOMY - 300 CASES
The Laproscopic unit is well equipped with Morcellator [to remove the operated big tumors & tissues from abdominal cavity] .Harmonic scalpel & vessel sealer [for innovative, quick surgery with minimal blood loss and minimal tissue damage]
Hysteroscopic Surgeries
HYSTEROSCOPIC SEPTUM RESECTION - 30 CASES
DIAGNOSTIC HYSTEROSCOPY & TUBAL CANNULATION (for tubal block) - 400 CASES
REMOVAL OF POLYP & OTHER TUMOURS IN UTERINE CAVITY - 10 Cases
RESECTION OF ADHESIONS IN UTERINE CAVITY
REMOVAL OF FOREIGN BODIES FROM UTERINE CAVITY [bone pieces & missed CU-T] - 10 Cases
Ovulation Induction
Ovulation induction involves stimulation of the ovaries to produce one or more eggs .women who have not responded to clomiphene citrate, are subjected to injectable Gonadotropin Therapy. While patient is on ovulation Induction drugs, the growth & rupture of the follicles & corresponding morphological changes in uterus [Endometrial lining] under the influence of hormones, is monitored by transvaginal sonography serially on alternate days.
INTRA UTERINE INSEMINATION (IUI)
Intrauterine Insemination is the cheap, cost effective, an innovative method of artificial reproductive technique, where the highly motile sperms are separated from the original semen sample after washing the sample off dead sperms, pus cells & other debris and the prepared semen is injected into the uterine cavity by passing the lower part of reproductive canal [i.e, vagina & cervix]. This method increases the chances of conceptive in:
Male Factor Infertility:
Erectile dysfunction
Mild to moderate oligoasthenospermia [Low count & Motility of sperms]
Retrograde ejaculation
Female Factor Infertility
Unexplained Infertility (Where the Reason could not be diagnosed)
Diseases of cervix [cervix erosion, antisperm antibodies]
PCOD
Mild to moderate Endometriosis
This is a painless procedure. The patients lie down for about an hour after the procedure and then can go home and resume to normal activities. Donor insemination is done for the couple, where the husband is AZOOSPERMIC [NIL sperm production]. This is done after getting consent from both partners. The success rate of IUI method is 15-25%
Success rate of IUI Depends on:
IUI around correct ovulation time [around 6 hours of ovulation]
Age of women [older age i.e. more than 35 yrs decreases the success]
Good egg quality
Good sperm quality [highly motile sperms]
Normal, Patent fallopian tubes
Blockage of fallopian tubes (IUI is not indicated in these cases)
Semen Collection
40% of etiological factors for infertility are attributed to the problems of male partner. Thus evaluation of male partner for fertility related problem is a must. Sample should be collected after abstinence of at least 48 hrs, but not more than 7 days. Less than 2 days of abstinence leads to decrease of sperm concentration and more than 7 days leads to decrease in sperm motility. The glass container should be wide method at 20oc - 40oc and checked for its toxic effects. It should be 60 to 100ml in capacity to avoid spillage. The first part of the semen is essentially collected. Sample should be delivered within half an hour of collection. The semen sample should be transmitted at optimal temperature between 20oc - 40oc Masturbation is the best method of semen collection. Semen analysis consists of a number of parameters to be assessed.
Services Available

| | |
| --- | --- |
| | 24hrs Maternity Services |
| | Laproscopic & Hysteroscopic Surgeries |
| | Fertility Services |
| | 24hrs Colour Doppler Scan |
| | Blood Lab [ Including Hormone Analysis] |
| | Infertility Unit [IUI] |